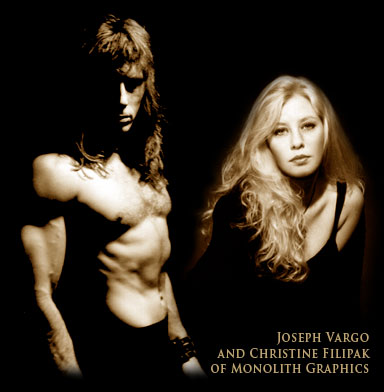 Joseph Vargo has been bringing his original and compelling creations to life through a wide variety of media for two decades. This world-renowned fantasy artist is truly a Renaissance man, with talents that encompass artwork, music, and literature. His gothic visions open a gateway to the darkside and dare the viewer to venture within. His chilling, mist-shrouded world of forlorn ghosts, brooding vampires, living gargoyles and other creatures of the night have earned him an immense and loyal following, with fans reaching from every corner of the globe.
His publishing company Monolith Graphics, launched in 1991, celebrated its 20 year anniversary in 2011. A world leader in gothic-themed products, Monolith has numerous clients across the US and in a over a dozen other nations throughout the world. Their extensive dark product line offers books, magazines, calendars, t-shirts, posters, tarot decks, and music cds.
Joseph Vargo achieved international acclaim in 1993 with the release of a series of artistic works entitled "Born of the Night," a title which has become synonymous with his gothic empire. His artwork has been featured in Spectrum's international collection The Best in Contemporary Fantasy Art, in Dark's Art Parlor Dark Visions collection, and in numerous other horror publications including 32 covers and countless illustrations for Dark Realms Magazine, Vampir, and the UK's Bite Me. His artwork has been featured in productions by broadcast and film companies such as NBC, Universal, A&E, 20th Century Fox and The Discovery Channel.
In 1998 and 1999, Joseph Vargo produced, financed, directed and performed on the gothic-themed albums, Born of the Night and Realm of Shadows, drastically changing the sound and style of music previously used by the Halloween industry. In 2003, he founded Nox Arcana with fellow musician William Piotrowski. Nox Arcana is renowned for their haunting, gothic-themed soundscapes, classic horror references, and strong literary influences. Vargo has produced and composed music for all of the Nox Arcana albums, as well as albums with other recording artists, including Michelle Belanger and Jeff Hartz of Buzz-Works. Vargo has also contributed music and narrations for various bands including Legion of the Damned and Acid Witch.
In addition to music, Vargo has created various artistic and literary projects including his Dark Tower series, Tales From The Dark Tower, Beyond The Dark Tower, and Return To The Dark Tower. He created The Gothic Tarot Cards and Compendium, and The Legend of Darklore Manor and Other Tales of Terror, a book of short stories and the novella that chronicles the grim history of the haunted mansion that inspired Nox Arcana's debut album. His artbook, Born of the Night: The Gothic Fantasy Artwork of Joseph Vargo, features a collection of paintings and illustrations spanning about 10 years. Since 2020, Joseph has been a sponsor and judge for the annual World Gothic Models competition.
Be sure to visit JosephVargo.com to see hundreds more paintings and illustrations, and to read more of his extensive biography including complete publishing credits. Read in-depth interviews. And check out NoxArcana.com to hear his music and read some of the myths and legends that inspire him.
Christine Filipak combines a subtle blend of fine art techniques and digital wizardry to create elegant and timeless imagery. She holds a Bachelor of Fine Arts degree from Kent State University and professes to be a voracious bookworm with a deep fascination for ancient cultures and historical horror novels. In 1992, she joined Monolith Graphics as art director and production manager, and throughout the years she has also taken on the roles of business manager and media coordinator for everything that Monolith Graphics produces.
Christine's talents are utilized in the graphic design, layout and pre-press production of everything Monolith publishes. Her other credits include co-writing and co-editing the gothic anthology Tales From The Dark Tower, as well as creating and managing the various Monolith Graphics and Nox Arcana web sites. In 2003, Christine created and produced the lush artwork for Madame Endora's Fortune Cards for which she cites Alphonse Mucha, master artist of the Art Nouveau movement, as her primary inspiration.
Christine loves animals, cats in particular, and supports the efforts of the ASPCA and The Humane Society. Also check out her baby bat rescue.